DESCRIPTION
The CRS Recycle Digester is a recirculation digester meant to produce practical amounts of pulp in batch fashion under repeatable and controllable conditions. The machine has been designed to be easy to operate, easy to clean and easy to maintain, while allowing for realistic simulation of process.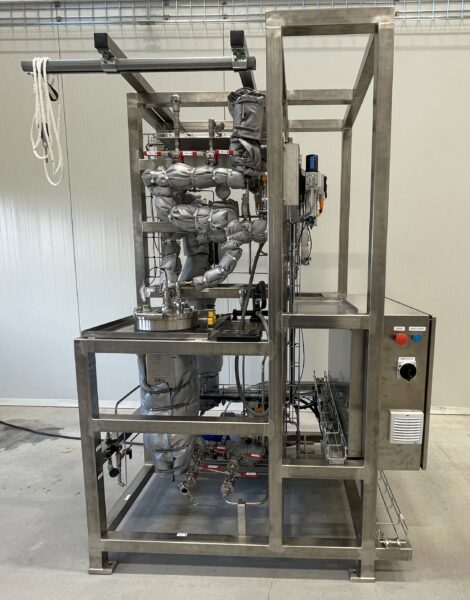 The digester vessel has an internal chip basket to simplify charge and discharge and is machined with precise tolerances to minimize dead-volumes and to ensure uniformity of chip bed flow. The temperature sampling points have been installed to correctly measure the real temperature of the chip bed.
The flow meter and variable speed pump allows for flow control and the automatic pressure system allows for control of process pressure. Atmospheric steaming is possible, as well as mid-process liquor sampling and easy post-cook liquor draining.
Optimized piping, vessel geometry and loop equipment means that this machine can go relatively low in liquor to wood while still ensuring good capacity for heating and rapid cooling at end of process.
The machine is compact and runs quietly. In all safety aspects it is designed according to relevant CE directives.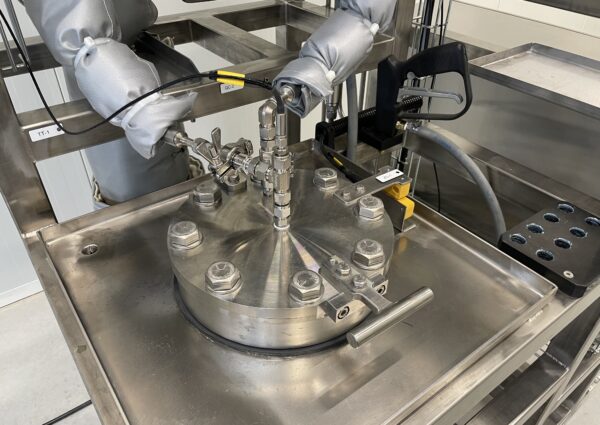 The CRS Recycle Digester is controlled by a cutting edge Beckhoff PLC system, allowing operation from any PC over a web interface. The system allows for remote trouble shooting and diagnostics, as part of the CRS commitment to easily serviceable machinery.
WHAT CAN IT BE USED FOR
Typical applications include:
Mill quality control support
Often this machine is operated partly in a supporting role to one or more mills, as a practical way of checking impact of raw materials, liquors etcetera to stock.
Laboratory pulp producer
Laboratories that need pulp that is produced under reliable and known conditions, for other downstream research purposes, such as bleaching or washing, often use this machine to supply the stock. The typical yield of 0.5+ kg is practical in terms of downstream handling.
Process fine tuning
This machine is commonly used for tuning of process, evaluating the impact of smaller changes of liquors, temperature and even flow.
HISTORY
The history of the CRS Recycle Digester goes back nearly 30 years, originally designed as a twin digester system. Both for safety considerations and to minimize the size of the unit it has for the last ten years been employed as a single system. The current design is now in generation 2.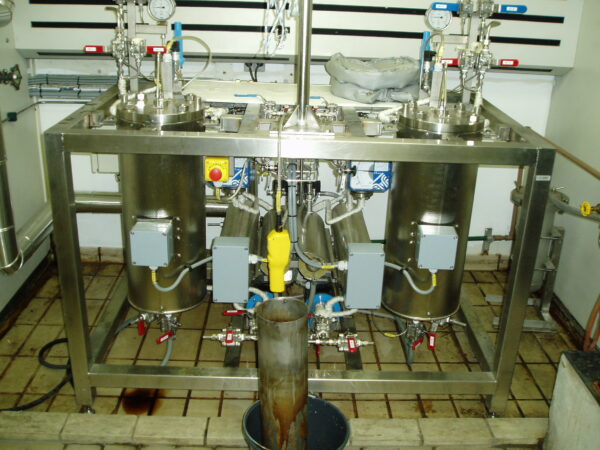 Technical data
Below are listed some key technical data for this machine, valid for the current generation (2).
Construction
Footprint

Machine only
Including service areas


130 x 95 cm (height 210 cm)
300 x 220 cm

Materials used

Rack and outer parts
Wetted parts


EN1.4301/304
EN1.4404/316L
Operation
Up to 9L

Around 3.5 (at max wood charge)
< 500 kg
0 – 15 bar(g)
Up to 180 C

Autoclave temperature ramp rate

At higher temperatures
At lower temperatures


4 C/min
3 C/min
2 – 6 Lpm
Requirements
Single operator
7 kW max load

Liquors and gases:

Cooling water:
Process gas:
Steam


Required
Required (Nitrogen)
Optional